For centuries refugees have come to Britain seeking safety and a chance to rebuild their lives. In recent years, one of the most successful ways has been through community resettlement.
In 2015, in response to the Syrian refugee crisis David Cameron pledged that Britain would take in 20,000 Syrian refugees by 2020. One way to do this has been through a scheme called 'The Community Sponsorship Scheme'.
In this scheme community groups take on the responsibility of welcoming, supporting and helping to resettle refugee families.
As the Pickwell Foundation we have helped support and sponsor seven community sponsorship groups to welcome families to resettle in Georgeham, Barnstaple, Ilfracombe and Chulmleigh. We are currently supporting other groups in Combe Martin and Appledore.
The government is currently working to resettle families from a number of conflict areas including Syria, Afghanistan and now Ukraine*. We would love to hear from you if you would like to consider forming a sponsorship group in North Devon or you would like to get involved in one of the existing groups. You can contact us here
You can read more about the Community Sponsorship Scheme from our South West Partner CHARIS and our friends at RESET.
UKRAINE
We have set up a dedicated website to give information, advice and support to those wanting to support Ukrainians through the 'Homes for Ukraine' scheme. Please visit to find out more and offer support www.northdevonwithukraine.co.uk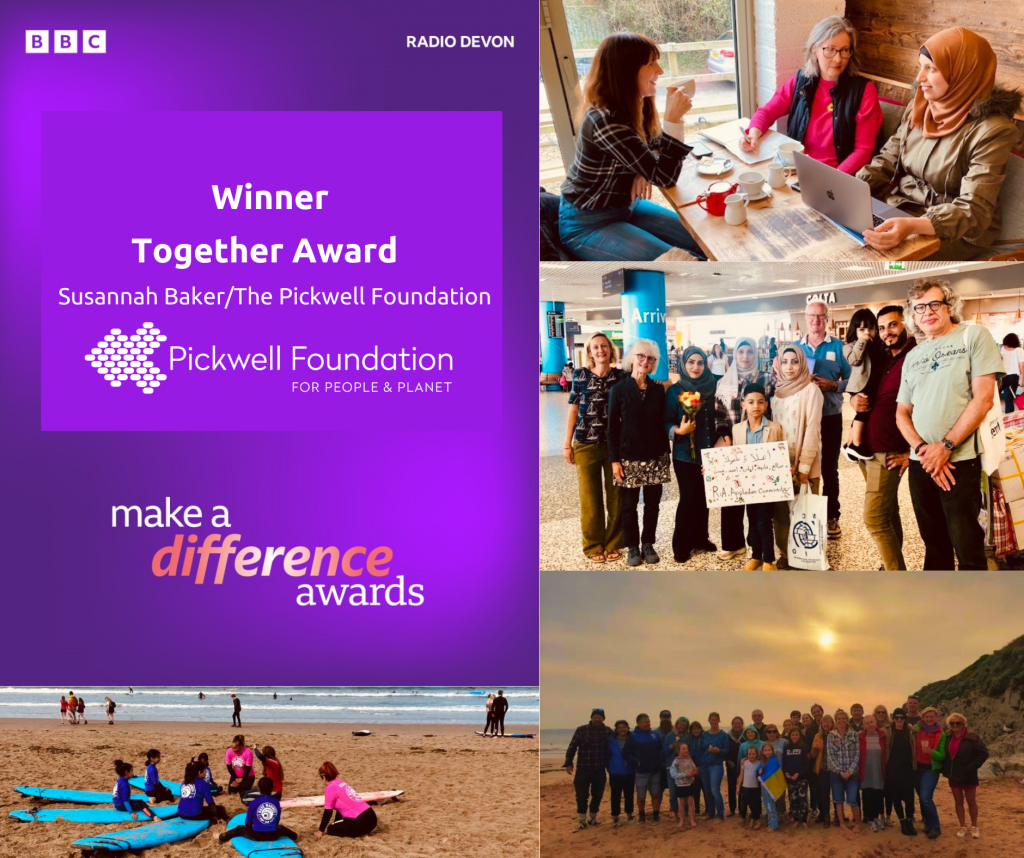 Honouring our incredible volunteer community and welcomed families. Those who've opened their hearts and homes, coming together to offer support and share experience and solidarity to displaced people from all over the world.
As you may have heard last week, The Pickwell Foundation's Lead for displaced people – Susannah Baker – won a BBC Make a Difference "Together" Award.
Awarded to those creating real change by breaking down barriers and bringing together people from different walks of life for a common cause.
Listen below to Susannah's interview in full with the BBC, following the awards ceremony – explaining a little about the work we do to support refugees here in Northern Devon.
< >